Contestants are entering almost daily, and the list of people competing in the $8,000 KCBS barbecue competition are on our web site, if you want to check it out. Visit http://porktoberque.com/kcbs-competition/confirmed-competitors/ and see who the teams are, and were they are from! Some of our more interesting competitors are:
Haulin' Butt BBQ– What do you get when you take a race car driver and turn him into a competitive BBQ team? Haulin' Butt. 
ET's BBQ– They say it's out of this world and you can even buy a plate and judge for yourself! This competition team from South Florida travels 8 hours to be in Dothan to compete, and they also vend BBQ for hungry festival patrons!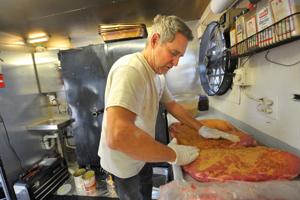 Q-Fused from Tallahassee, FL. These guys came to Dothan to compete in the backyard division in 2010 and won the whole thing. They moved up to the pro level and have been scoring good ever since against major teams from around the country. They might be the "underdogs" but will lightning strike twice for them?